History of Venice
Venice is a fascinating city with a very rich history. Take a look at our history of Venice timeline below. It's a snapshot of just some of Venice's past. Be inspired to come and trace her fascinating story in present day Venice for yourself!
5th Century AD – the story of Venice begins.
The first settlers in Venice were groups of people escaping the Barbarians who were invading the northern parts of Italy. They initially took refuge on Rialto – one of the islands in the lagoon.
5th Century until 7th Century – repeated invasions.
These invasions by Barbarians, but also the Huns and Goths continued throughout the area – particularly along the Adriatic Coast until near the end of the 7th Century. At this time, the islands in the lagoon were under the authority and influence of Ravenna – south of modern day Venice, which was controlled by Byzantine Empire.
726 AD – Venice elects its first Doge.
As the influence of the Byzantine Empire waned, Venice elected its first Doge. A doge was an elected patriarch or Duke. This was the Venetian Republic in its earliest form.
Grand possession of an early Doge in Venice Wikimedia Commons
9th Century - the growth of the Republic.
Venice began to grow into a maritime republic – similar to Amalfi, Genoa and Pisa. These cities made the most of their location and like Venice, they became independent states, largely thanks to the economy they built up.
To defend her own interests, Venice also took part in wars and military campaigns – each move was part of a strategy to defend or grow her own interests. This included annexing important cities, or taking part in the Crusades when the Pope demanded. Venice successfully maintained domination over the seas and ports under her control. Her trade routes and strategic decisions brought her success and money.
13th & 14th Century
Genoa – another maritime republic, was a rival to Venice, and during this period there was frequently unrest between the two cities. Venice faced further challenges during this period including the Black Death.
Mid to late 15th Century
Some say that Venice's influence on the waves began to diminish. Turkey gained more control of the Adriatic Sea. Christopher Columbus discovered America in 1492, but it was Genoa who dominated the trade route to the New World. After the Cape of Good Hope was successfully navigated around in 1498, the world had another trade route that by-passed Venice altogether. Politically and strategically she was less important. However she remained a cosmopolitan city – with many nationalities influencing the city. We can see this influence even today in our architecture.
16th and 17th Centuries
However, Venice became more important in art during this period. It was a cultural hotspot during the Renaissance. It attracted many of the world's best artists, and in turn, their work kept Venice on the map.
Map of Venice from 1572 Wikimedia Commons.
18th and 19th Centuries
The arrival of Napoleon in the late 18th Century meant the end of the Republic of Venice. In the 19th Century Venice was passed between the French and the Austrians. From 1848 – 1849 Venice enjoyed 17 months as the Republic of San Marco before being annexed by Austria again. Then in 1866 Venice became part of the Italy – and remains part of this country today.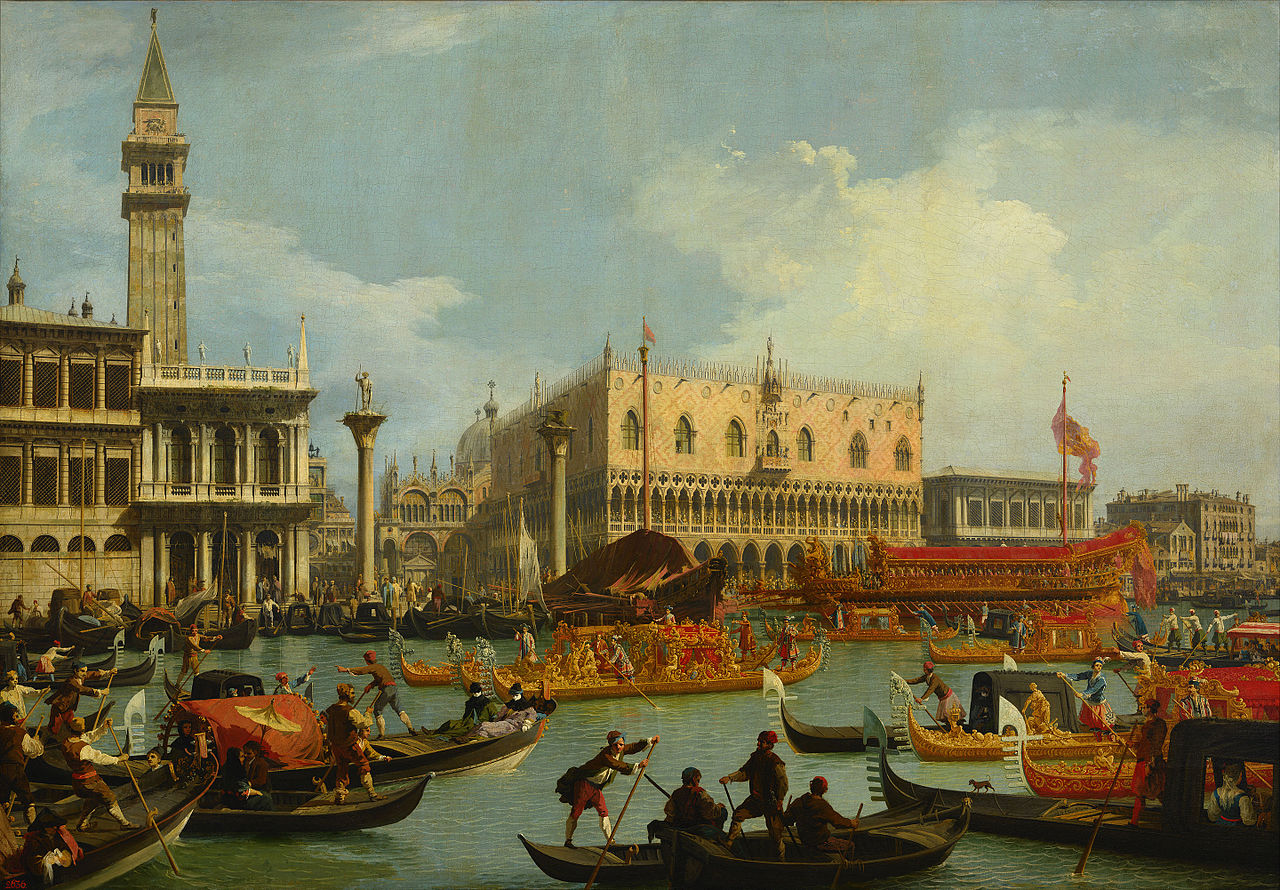 An 18th Century view of Venice
Inspired by Venice's story – then come and visit us!
Of course, there's even more to tell you about Venice's past – this is only part of the story.
At Venice Events, we are sightseeing experts and we'd love to help you explore our city and its history with one of our Tours of Venice. For more information, please visit our website to see how we can help you explore and enjoy Venice.
Check out our Facebook, TripAdvisor and Instagram pages for more information including further reviews from our guests.
We look forward to seeing you in Venice soon!
The team at Venice Events.